Go back
About PubMatic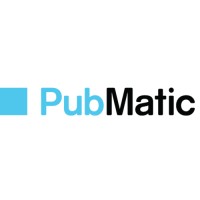 Contact: +61 2 9174 5257

Email: info@37talent.com.au
​Pubmatic​
PubMatic (Nasdaq: PUBM) is an independent technology company maximising customer value by delivering digital advertising's supply chain of the future. PubMatic's sell-side platform empowers the world's leading digital content creators across the open internet to control access to their inventory and increase monetisation by enabling marketers to drive return on investment and reach addressable audiences across ad formats and devices. Since 2006, our infrastructure-driven approach has allowed for the efficient processing and utilisation of data in real time. By delivering scalable and flexible programmatic innovation, we improve outcomes for our customers while championing a vibrant and transparent digital advertising supply chain.
Company Information:
Industry: Advertising Services

Company size: 501-1,000 employees 950 on LinkedIn. Includes members with current employer listed as PubMatic, including part-time roles.

Headquarters: Emeryville, California
Find out more:
Want to know what it's like to work for PubMatic? Call one of our consultants today on +61 2 9174 5257 or drop us a message via email.
​